Driving a luxurious or sports car is a dream of every driver especially when he gets to enjoy prestige motor insurance alongside. In UAE, more than 30% luxury cars run on the roads. Standard insurances do not fit into the needs of luxury vehicles which is why it is necessary to find the right high-performance cover.
Insurance TopUp comes with sports / high performance car insurance policies with lots of benefits and suitable coverage. We ensure that your prestige vehicle gets better coverage whenever needed. We are collaborated with the popular car insurance companies in Dubai and we match you the best online quotes according to your coverage. Whether your car is a luxurious BMW or Aston Martin, we get you the most suitable executive car insurance schemes. We believe in providing high-end services to our customers regarding their insurance needs.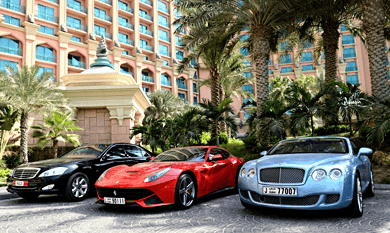 Leading prestige insurance provider in UAE
As provider of executive car insurance or prestige car insurance, Insurance TopUp aims to provide high-end services at the distance of a call. Providing high-performance coverage, takes Insurance TopUp one step ahead of its competitors in UAE.
Our team of experts is specialized in providing suitable coverage to the owners of prestige vehicles. We thoroughly understand the needs of our customers and provide them the right way to insure their prestige vehicles. From providing general management guideline to advising on security measures, you will find us leading the customer support.
You are always welcomed to get your free prestige car or sports car insurance quotes from Insurance TopUp. Just call us at +971-4-2485886 and compare your options. You may contact us through WhatsApp as well 056-5543022.
Get Prestige Car Insurance Quotes Today!
Protection Through One of the Best Insurance Companies in UAE.
The benefits of Prestige motor insurance includes:
You may choose the repairer of your choice.
Spent 2 years of no-claim? Congratulations! You are eligible to enjoy a lifetime No-Claim bonus.
Enjoy unlimited window glass repairs.
The medical expenses of insured prestige car's driver and even funeral expenses are covered.
You get to enjoy lifetime repairs of your vehicle.
Enjoy $500 for the delivery of your vehicle after repairs if the garaging address is more than 100km away.
If the driver is not at fault in case of an accident, he is eligible to claim hire car costs until your vehicle is repaired.
The insurance amount at the time of purchase won't be changed during the policy period.
The cost of express air freight comes under prestige policy.
The towing expenses after an accident are also covered.
Enjoy up to $1,500 to cover up accommodation or travel expenses if your car is damaged or stolen 100km away from its garaging address.
Whatever your needs are, do not forget that our agents provide you the most affordable and suitable solutions to cater your prestige vehicle's needs.
Need High Performance Car Insurance? We're only a phone call away. Just Call or WhatsApp +971-56-5543022